Introduction:
In this day of modern technology there are a good deal of golf GPS products that can help you improve your golf game by instantly telling you how far you are from the hole on any golf course and on any hole you are playing anywhere in the world.
I thought I would take some time here to introduce you to some of the best and cheapest golf GPS products that are available on the market today.
Golf Buddy VTX Hand Held GPS
The golf buddy VTX hand held GPS is one of the most advanced hand held GPS range finders you can get. It comes with many features like voice audio in either male or female voices, it also comes with blue tooth connectivity.
The golf buddy GPS also comes pre-loaded with over 38,000 golf courses all around the world. It has a rechargeable lithium battery that lasts up to 15 hours. Also, included is a plastic carrying case.
Golf Buddy WTX Smart Golf GPS Watch
The golf buddy WTX smart golf GPS watch provides all the features of the hand held model but is a stylish compact watch. The WTX is compatible with the Golf Buddy mobile app which gives you extra levels of function.
The Golf Buddy WTX also is built in with an odometer and GPS tracking. It will give you distance to targets and hazards, distance to the front, center and the back of the green and the actual distance of your shot to the pin.
The WTX also comes with a rechargeable lithium battery that is good for 8 hours on GBS mode. The WTX is USGA compliant and is legal in handicap and tournament play.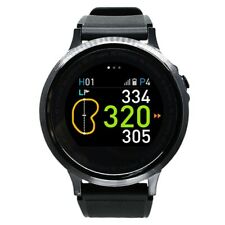 SkyCaddie SX500 Golf Hand Held Golf GPS
One of the best features of the SX500 is it's 5″ touch screen. The SX500 also comes with a host of other features like the auto course selection, the auto hole advance feature and the auto zoom feature which virtually makes it a touch free GPS.
Another powerful feature of the SX500 is the SkyCaddie's dynamic hole view. This feature automatically re positions you from where you are on the course to the hole from tee to green.
Garmin G10 Hand Held Golf GPS
Whether you are playing at your local home course or on vacation at a course you have never been to, the Garmin G10 knows exactly where you are and how far you are to the pin.
The highly sensitive receiver on the Garmin G10 gives you the data you need to accurately know the distance of your next shot. The Garmin G10 gives you distance to the front, center and rear of the green as well as distance to water hazards, sand traps and even doglegs.
Garmin S10 Golf GPS Watch
If you really want some bang for your buck as far as your golf GPS goes then the Garmin S10 Golf GPS watch is just what you are looking for. Based on your location the Garmin S10 GPS watch automatically picks the course you are playing at the time.
The Garmin S10 is pre-loaded with over 41,000 courses worldwide. It gives you yardages to the front, center and back of the green as well as hazards and doglegs. It automatically transitions from the green to the next tee. If, you really crush a drive it will also tell you how far you hit your shot. The Garmin S10 watch also come in three different colors.
Bushnell Hybrid Laser Rangefinder
Integrated laser/GPS Display
Two battery sources, CR2 for laser and USB for GPS
Includes carrying case, charging cable and CR2 battery
Laser Features
400 yard distance to pin
Magnification to 5x
Jolt Technology pin seeker
Fast focus system
GPS Features
Pre-loaded with 36,000 courses in over 30 countries
GPS reads distance to front, center and back of green
Measures distance to hazards and doglegs
Bluetooth compatible for updates
Automatically recognizes course and auto hole advance
Bushnell Neo Golf Hand Held GPS Range Finder
This Bushnell Neo range finder is compact, light, waterproof and fits in the palm of your hand. The Neo comes pre-loaded with over 36,000 courses worldwide.
The Bushnell Neo gives you readings to the front, center and back of the green. It comes with a 16-hour-long battery life that is rechargeable.
Included with the Neo is a clip for your belt or bag, it adheres's to USGA rules making it legal for handicap and tournament play. Includes auto course recognition and auto hole advance feature.

Voice Caddie T2 Golf GPS Watch
The Voice Caddie T2 GPS watch is the most practical watch you can own. Not only is it a golf GPS range finder but it also has functions for running and cycling.
The Voice Caddie T2 comes pre-loaded with over 30,000 golf courses so no downloading is required. It is waterproof up to 30 meters deep. Includes a USB charging cable and a quick start guide.
Golf Buddy LR7S Laser Range Finder
The LR7S range finder is a compact and lightweight range finder that gives you accurate readings of yardages needed. It has a scan mode a pin seeker mode and an elevation mode for even more accurate shot making.
If, you are really serious about golf this range finder is a must have. Guaranteed to knock shots off your score.
Bushnell Golf Excel Range Finder Watch
The Bushnell Excel range finder is blue tooth integrated for instant updates. Other features of the Bushnell Excel are:
Play three rounds of golf on one battery charge
Comes pre-loaded with over 35,000 golf courses
Reads distance to front, center and rear of green
Reads distance to up to 4 different hazards on any given hole
Comes with auto course recognition and auto hole advance
Built in step counter, clock, timer and alarm
completely water resistant
Plus many other features that you can find

Conclusion
I hope you have enjoyed my article here on my cheapest golf GPS products. Hopefully you have found to meet your golf needs. Any questions you may have please feel free to leave me a comment below and I will get back too you as soon as possible, or just leave a comment if you have enjoyed this article.
Good Golf To You
Robert