Introduction
No matter what level of golfer you are you should always be thinking about reaching certain goals with your golf game. Setting golf goals can have a major effect in your golf game in many ways.
I'm writing this article to help golfers reach their goal of breaking eighty for the first time in their golf game.
Those golfers who have been playing golf for a little while, for some reason always seem to have a problem reaching that magical goal of shooting a round of golf in the seventies, hence my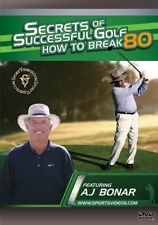 reason for sharing my breaking 80 golf tips.
This does not mean you cannot use the information I am about to share with you to reach your own particular golf goals.
What I mean by that is for instance if you are a beginner golfer and have not shot a round of golf below 100, or if you have been playing for a little while now and have not shot a round of golf below 90 this information can also be used to meet your golf goals as well.
Where to Start
There are probably many factors contributing to why you cannot seem to put together that consistent round of golf that will put you over the edge to finally obtaining your particular golf goal.
The first thing you will need to do is dissect your entire golf game to determine what the weakest links are in your golf game so you can address these issues and improve your golf game dramatically.
How do I dissect my golf game you ask?
I'm going to share a little tip I learned many years ago by an old school golfer who was totally obsessed with his golf game. He really wasn't even that great of a golfer but he still was always trying to improve his golf game and figuring out how to do so.
So here is the tip:
The next time you go out to play a round of golf, go into the clubhouse and get yourself an extra score card. This will not be used to keep your score on. Where the spaces are where the players name go I want you to fill in those spaces with the following information:
Fairways hit – how far off line
Greens in regulation – second shot or third shot on a par 5
If missed green how close you chipped to hole
Sand saves – one shot from sand trap and made putt
Three putts – self explanatory
You could also jot down any penalty shot – hit in water hazard or ball out of play
So now after you have completed your round of golf you will have a complete road map of the entire round. Now you can take the card to the 19th hole or take it home and analyze the round you just played.
This should give you a pretty good idea of what areas of your game that you need to work on the most. Do this for say three or four rounds and compare all the cards and see if they are pretty consistent with each other.
This will help you figure out the weak areas of your game even more.

Food for Thought: If, you look down this list from top to bottom you will notice they all kind of go hand in hand. If, you miss the fairway your odds for hitting the green will go down.
You will either be having longer putts or chipping more or hitting from a sand trap more. That in turn could lead to more three putts. So ideally what you are looking for is a very balanced golf game.
So now lets break down the list:
Fairways Hit:
So most regulation 18 hole golf courses will usually consist of 4 par threes, at least 2 par fives and the other 12 holes par fours. This means you will be pulling your driver out of your bag at least fourteen times.
In my opinion your driver is the second most important club in your bag. ( The putter being the first – we'll get into that later )
The reason your driver is the second most important club in your bag is, like I said earlier, it kind of sets up the way you play the rest of the golf hole your playing at the time.
Most golfers have this preconceived notion that when they have their driver in their hand they need to swing as hard as they can in order to hit the ball as far as they can. This idea is far from the truth, in fact the exact opposite is true.

If, you feel like you fall into this category you need to get those thoughts out of your head. Take yourself to the driving range and hit some drives as hard as you can. Then hit some drives with your normal nice easy and fluid swing. I guarantee you the latter were your best drives.
In order to hit more fairways in your round of golf accuracy will always be more important than distance. In fact, if your accurate and hit fairways you will end up getting more distance anyway. Hitting the fairway will give you more roll when your ball lands.

Greens in Regulation, Your Irons:
Knowing how to hit your irons is a very important part of your golf game. If, you are an advanced golfer and are on the verge of breaking 80 then you probably know about how far you hit your irons.
Not all iron shots are created equal. Say if you are on the tee box of a par three 150 yards from the hole. You tee the ball up a little and have a perfect flat lie. So you hit your seven iron that distance and more often than not you probably hit the ball on the green.
Out on the golf course each and every iron shot can be entirely different. If your in the middle of the fairway on a flat lie you would use your normal club and swing for that distance.
What if the ball is below your feet? What if the ball is above your feet? In each of these scenarios the ball is going to react differently. You can learn about a lot of these golf trouble shots here.
Another thing to take into consideration when hitting your approach shot to the green is the pin location on the green. Sometimes the pin will be tucked in a corner or right behind a sand trap.
You don't have to be a hero and aim right at the pin. These are called sucker pins. Sometimes it's best to just aim for the center of the green make two putts for your par and move on to the next hole.
Pitching and Chipping
One of the areas where a lot of strokes are lost or gained is around the green but not quite on the green. Even pro golfers don't hit greens every time but they are masters at chipping and putting around the greens and from the sand traps.
Ideally you want to pitch or chip your ball as close to the hole as possible so you have an easy put for your par. This is where becoming a short game expert can really come in handy.
A lot of golfers think just because you are pitching or chipping you have to take one of your more lofted clubs to make this shot. This is not the case. You will want to use say a sand wedge from the sand trap or if you are facing a shot where you have to hit over an obstacle, like a trap or a bush.
A lot of chips can be made with a much less lofted club like a 6 iron to just get the ball rolling on the green and up to the hole. Using your hybrid is also a great alternative in some situations for chipping. Be sure to practice these specialty shots before you try using them during your round of golf.
Three Putting
Ask any golfer, no matter what their skill level is, what upsets them the most during a round of golf and I'll bet 9 out 10 of them will say three putting.
There is no worse feeling in golf than striping your drive right down the middle of the fairway, hitting a perfect iron shot on the green 20 feet from the hole and then three putting for bogey. It's the worst feeling in the world.
Why does this happen so often:
I'll tell you one of the biggest reasons this happens from what I observe at the golf course on any given day.
Most golfers get to the golf course, put their shoes on then hit the range and start smashing drives. They then proceed to the first tee. This is not good. You'll never break 80, 90 or 100 with this routine.
What I suggest:
When you arrive at the golf course, I recommend 45 minutes to an hour before your tee time. You want to be relaxed and not rushed. Get your golf shoes on, get your accessories together then head to the driving range. Spend at least 5 to 8 minutes stretching and going through some golf motions.
Then go through your golf bag from your pitching wedge to your driver hitting about 1/2 dozen balls with each club. Then proceed to the practice putting green and spend fifteen minutes practicing your pitching and putting.

Hit some long putts just for picking up the speed of the greens and then 6 to 10 foot putts to finish your session. You are now more likely to have a more enjoyable round of golf. You can see some of my best golf putting tips here:
Penalty Strokes
Penalty strokes really do stink but sometimes you just can't do anything about them. Even the best golfers in the world hook the ball or slice the ball out of bounds or hit a wayward shot into the water.
What they do and what you should also learn to do is to take your medicine, forget about it and move onto the next shot. One of the most intimidating shots in golf is standing on the tee box of a par three hole and all you see is water.
What you need to do here is to pretend the water is not even there. I know this is easier said than done but it is something you need to overcome. All of these above scenarios is where the mental side of golf comes in to play.
Conclusion
I hope you have enjoyed my breaking 80 golf tips article and find time to check out my other articles on different golf tips that I have put into this article. I'm sure if you practice some of these principles you will eventually reach your golf goals, whether it be breaking 80, 90 or 100.
Please remember golf is a gentlemen s game and is meant to be in the outdoors and have fun. After all it is just a game and a great game at that.
Once again I hope you have enjoyed my post and as always please feel free to leave a comment below and I will answer any questions you may have.
Good Golf to You
Robert